Fujitsu 30RLX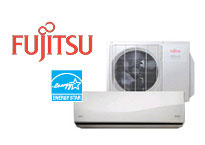 Ultra-compact yet efficient, this high SEER system provides maximum heating and cooling in 30% less space while saving you money.
Features
Designed for both heating and cooling
Inverter Technology
ENERGY STAR® Qualified
Clean Air
Quiet Operation
Wireless Remote Controller
Washable Panel Filter
Smart System: Auto Mode
Humidity Control
Call now to talk with one of our equipment specialists. They will help you learn more about this system and find out if it's best for you.
Long Island NY:
516.783.1000
Pennsylvania:
215.943.3500
30RLX system – cooling & heating BTUs:
C 30,000 BTUs
H 32,000 BTUs
For more details and information about this system, click here