Here's why propane is for you.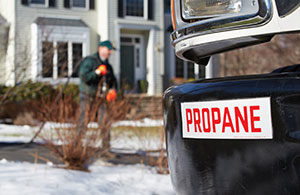 If over 18 billion gallons of propane isn't proof enough you should be using it too, we've got to talk.
Whether it's for your business or home, propane has developed into an incredibly environmentally and financially responsible choice for people all over the country.
See below how propane is a great choice for your heating needs.
Economical and efficient - The U.S. Department has declared propane to be nearly twice as effective and efficient as comparable fuel sources. A head above electric and natural gas heating, propane provides many more BTUs (British Thermal Units, a measure of heat output) than electric and natural gas.
Plentiful supply - Nearly 90 percent of all propane used in the United States is produced here. Created using plentiful natural gas and petroleum, sources for propane won't deplete for a very, very long time.
Convenient and easy - Under pressure, propane is converted into a liquid, which means you can transport it to many more places than are available with expensive natural gas lines. This feature also makes propane great for small-use applications, like grilling and portable heating.
There's also nearly 56,000 miles of pipeline already made for propane, which means our nation's infrastructure is poised for the oncoming growth of propane use.
Environmentally responsible - The Clean Air Act of 1990 and the National Energy Policy Act of 1992 both recognized propane as a "clean" fuel source. With nearly no emissions and no toxicity in the air or water, propane is a clear choice as an environmentally conscious fuel source.
Additionally, the Southwest Research Institute found propane produces nearly 70 percent less smog than gasoline. Its use also significantly lessens production of carcinogens such as toluene and benzene, by some estimates up to 96 percent.
It's safe, plain and simple - Propane is extremely safe to use and very easy to detect when there are problems.
The propane industry has historically placed a major emphasis on safety, which means companies such as Meenan comply with a wide range of regulations to sell propane and service propane systems.
While natural gas is odorless and colorless, propane carries an extremely pungent smell — something that makes the fuel very hard not to detect in the air.
The training that propane technicians undergo — and Meenan's fleet of expert technicians are no exception — is a product of regulations and codes developed over several decades. The official national certification was developed by the Propane Education and Research Council (PERC) and the National Gas and Propane Association (NGPA).
That means our technicians take on not only training from Meenan, but from nationally recognized authorities to obtain their certifications. This training and their certifications are also updated often, which means all Meenan technicians are constantly learning more about their trade.
Some things to know about propane use.
Much like all other heating systems, all issues that can take place with propane appliances are best handled by one of our nationally certified technicians.
Pilot lights - Pilot lights are small flames that constantly burn to heat injected propane. While extremely rare, your pilot light could blow out.
In the event that this happens, PERC suggests calling your local propane technician to investigate the issue and relight the pilot flame.
Appliances - Nearly everything that runs on electricity or natural gas can be converted to propane. If you're looking to save money and create a safer environment for your family, contact Meenan today about converting your appliances to propane power.
What that means is if you have any issues with your propane appliances, our local and nationally certified technicians will be ready to handle any issue that may arise. Never try to fix a problem with your propane appliances alone — we are just a phone call away.
Catered to you - Whether you're looking for an above-ground or underground tank, or if you are unsure of what size propane tank you may need, rest assured there are many options for you.
Tanks large enough for housing developments and small enough for single family homes are available, in some cases up to 1,000 gallons in capacity.
Whatever your circumstance, there is certainly a propane product that will suit your needs. Call Meenan today to find out more.
Click here to read our tips on safety and handling of propane products