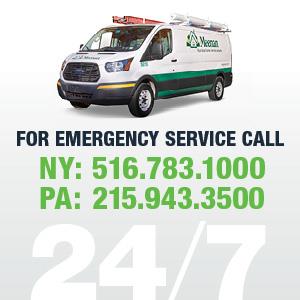 Emergency furnace and boiler repair service.
When you have a heating or home service emergency, this is the only number you need to know:

516.783.1000 (Long Island)
215.943.3500 (Pennsylvania)
From heating systems that stop in the middle of a freezing night to A/C systems that break down when they can't handle the heat of summer and much more, you can rely on us to always be there for you, for any home service emergency.
Emergency repair services that we offer:
Oil, propane and natural gas furnaces, boilers and all heating systems from all of the leading manufacturers
Central and ductless air conditioning systems from all major brands
Home plumbing emergencies that require immediate attention*
Generator service repairs
Emergency repair service teams that you can rely on to:
Be there to answer your call, anytime you need us
Provide prompt and professional customer service
Provide service and support that you can rely on 24/7 — whatever the weather!
When you have a home service emergency, don't panic. Just give us a call.
Call 516.783.1000 (LI) or 215.943.3500 (PA)
*Service may not be available in all areas
Additional resources