A comprehensive guide to propane equipment.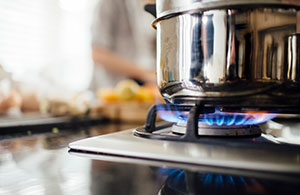 As the best propane services company around, we bring our trained and certified technicians with years of combined experience to every call. When it comes to maintenance, sizing, on-site appraisals, and installations, you can trust in Meenan.
In this article, we will also explore how propane can save you more money than electric heat.
What kind of equipment uses propane?
Furnaces.
Using a furnace to heat your home is the most cost- and comfort-effective choice. Electric heaters release heat that is lower than body temperature, whereas oil-heated furnaces produce small bursts of 120 degree air — the small bursts are programmed to reduce overall utility costs over time.
Here are some more reasons propane is the best way to heat your home:
More Efficient - According to the U.S. Department of Energy, propane costs half as much as electric heat.
Longer-Lasting - Propane furnaces last 10 to 15 years, at least five years longer than electric heating pumps.
Better than Fireplaces - Propane heating systems can be situated horizontally or vertically — that means the traditional fireplace becomes simply a nice fixture.
Reliable - Propane heating systems work during an electric outage, so the power going out doesn't mean you have to feel the chill.
Propane fireplaces.
Using a propane fireplace has many advantages over traditional fireplaces. Here's several reasons why:
Holds In Heat - Traditional fireplaces need to use dampers to release heat, which means a lot of the heat generated gets wasted. Directly vented inserts allow for a constant stream of heat to be released, which also significantly cuts down on wasted energy.
Efficient Design - Propane fireplaces bring all the heat into your room, as opposed to pushing heat out of a chimney stack.
Improved Air Quality - Wood-burning fireplaces often release allergens and contaminants into the air. Propane fireplaces release no contaminants into the air, leading to better air quality.
Safety - While with a wood-burning fireplace you must ensure no embers are burning when you go to bed, you can turn off your propane fireplace simply with the flick of a switch.
Applicability - Propane fireplaces can come in many different forms. From wall units to freestanding units, you can have a propane fireplace installed anywhere you want. You can also have them controlled by a push button, or by remote control.
Control - While wood fireplaces generally only produce radiant heat, you can customize your propane fireplace with dampers, smoke shelves, and other heat-circulating features to produce both radiant and convective heat.
Under- and above-ground tanks.
We at Meenan offer under- and above-ground tank options for whatever suits your needs best. Our highly skilled technicians also offer training and directions on how best to maintain your heating system for peak efficiency.
Generator service and installation.
With a propane generator, you are able to have completely reliable power in the event of an outage. We offer two options:
250-gallon Above-Ground Tank - In case of an outage, you can have power delivered to your home up to five days after electricity has been cut
500-gallon Under-Ground Tank - With the 500-gallon option, you can power your home for up to 11 days after an outage
Propane water heaters.
There are many benefits to using propane water heaters over electric-heated versions.
For one, propane water heaters are more precise, meaning you have more control over the temperature of your water. For high-volume water users, you could also see savings in the form of cheaper heat, as electric heat is more expensive.
Propane water heaters also use less space, so placement is much easier — especially in older homes with fewer wide-open spaces inside.
There are also tankless propane options, which allow you to draw water on demand as opposed to being stored in a tank. This can lead to significant power savings over the course of the year.
Cooking and range-tops.
Cooking is far more efficient — financially and otherwise — with propane.
For one, open propane flames begin cooking at an optimum temperature immediately, while an electric element must heat up first. Additionally, electric heating elements can burn out over time.
Cooking with propane is also safer. After you've turned the propane burner off, the rangetop can cool off much more quickly than with electric systems.
Propane is also available in all cooking methods, from convection ovens and standard rangetops to fryers.
Drying your laundry.
As stated above, the U.S. Department of Energy has declared that propane is half as expensive as electric power. That means drying your clothes could become a lot cheaper!
Propane dryers also heat up twice as fast, which means your clothes need less time to dry.
Hot tubs, pools, and more!
As propane heats significantly more quickly than electric heat, you can bring that hot tub up to bubbling perfection in no time!
If you have a heated pool, you'll also see significant savings with propane. As pools are generally large artificial bodies of water, the amount of heat it takes to bring it up to a proper temperature can be significant — at half the cost of electricity, you could realize huge savings if you have a pool.
Patio heating.
Patios are notoriously expensive. That's because, as a space that has open-air access to the outside, you stand to lose huge amounts of heat.
Using propane means you save money on all that escaped heat. Propane heats a space far more efficiently than electricity, which means you're using less power to heat your patio overall.