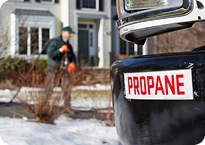 Get the facts about propane.
Why do 8.1 million households use propane gas to fuel many home comfort and utility services?1
As one of the nation's most versatile sources of energy, every day, people use propane gas for heating and cooling their homes, heating water, cooking, drying clothes, barbecuing, lighting, and fueling their gas fireplaces.
Propane offers homeowners reliability, cleanliness, improved performance and, on average, costs half as much per BTU as electricity. However you use propane in your home, the facts speak for themselves:
Propane gas furnaces: 1
Consistently supply air at 120 degrees Fahrenheit. Electric heat pumps dispense 95 degree air, which is less than body temperature (98.6 degrees), so the air feels cool, not warm.
Last an average of 20 years, while electric heat pumps last an average of 12 years.
Have lower repair costs than electric heat pumps.
Propane gas water heaters: 1
Cost approximately $10 less per month to operate than comparable electric units.
On average are 42% less expensive than electric heaters. Over an average life span, they can save homeowners nearly $2,000 more than an electric unit.
Heat more than twice as much water in an hour as comparable electric models.
Propane gas-burning fireplaces: 1
Cost between 30% and 60% less per hour of operation than wood-burning fireplaces.
Emit 40 times fewer emissions than wood-burning units and cost less to operate. They can be turned off easily with a switch, eliminating concern about remaining embers.
Propane gas-burning cooktops and ovens:1
Offer instant heat and absolute temperature control — 97% of professional chefs prefer cooking with gas.
Propane gas clothes dryers: 1
Can complete drying tasks in approximately three-quarters of the time it takes an electric unit.
Some models save up to 65% in costs over electric dryers.
Learn more about our propane services
Find out why your neighbors prefer our propane heating services.
Contact us today
1Source: www.npga.org