Natural gas heating system – Why an annual tune up is important.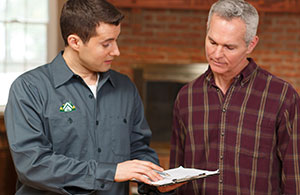 Like air conditioning systems and any other major home comfort system, having an annual tune-up for your natural gas furnace is important because:
Preventive maintenance is the best way to help assure that your system is operating at peak efficiency heading into the winter season and also reduce the chance of costly repairs during the heating season.
It helps prevent many sudden, unexpected breakdowns by taking care of any potential issues before they become expensive ones to repair.
By not keeping your furnace in peak condition, it could potentially void any manufacturer's warranty that you might have.
Making your annual tune-up appointment It pays to call and/or visit the websites of local heating companies to find out what kind of tune-up services they provide. When doing so, it's important to determine if the following necessary actions are performed on your natural gas furnace by any technician doing the tune-up:
Check out the furnace's vent system, and clear blockages and/or seal leaks. Any chimney blockages can easily be cleared up by our team of qualified chimney technicians.
Examine the heat exchanger for signs of rust or corrosion to help prevent leakage of dangerous carbon monoxide fumes and heat your home safely. Our modern Combustion Testing Equipment is also used to assure the integrity of the heat exchanger.
Check burners for efficient ignition and sufficient burner flame.
Examine all wires and filters for any damage. Filters should be changed more frequently than once a year during an annual tune-up.
Check and ensure that combustion gases meet manufacturer specs to ensure it runs at peak efficiency - normally at least 85% or above.
Check the blower door and make sure it has a tight seal, to prevent leaks.
Check that fresh air louvers have no blockages and are clear for your system to run properly.
Check the furnace's blower wheel and, if required, clean it.
You will need to have all these actions done by a professional service technician during any tune-up to ensure that your natural gas furnace runs energy-efficiently and, more importantly, safely all year round but particularly during the heavier use of winter months.
It also pays to consider getting a service plan. Most companies offer service plans with various levels of coverage to make sure that you have total peace of mind with your natural gas furnace all winter long.
We're your local natural gas heating system experts
If you need a natural gas furnace tune-up, just give us a call! Our technicians will be sure to perform all of the required tune-up tasks listed above and we also have three service plan options for you to choose from. Just pick the one that's best for you!
Call today to schedule your tune-up and learn more about our service plan options.