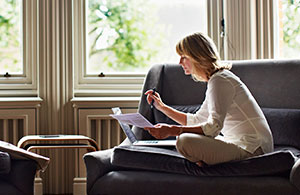 Contrary to what you may think, heating oil is clean, safe, and abundant. Biodegradable and 95 percent cleaner than it was in the past, is constantly improving for people who want to be more environmentally and financially responsible when heating their homes.
As a company that delivers high-quality heating oil with the closest attention to safety and satisfaction, we understand having the facts empowers you—the customer—to make the right choice as to how to heat your home.
See in five points why today's heating oil is safe, environmentally responsible, and efficient. We also will show you how heating oil can be part of a solution to become more environmentally conscious while still meeting all the needs of comfort you have for your home and family.

1. It's safe, plain and simple!
Many people think all oil is flammable, and that's simply not true. Heating oil is as safe as water. If you take a match and drop it into a vat of heating oil you'll find the flame fizzles out—that's because it's only ignitable by what's called an "advanced burning system," a common mechanism in home-heating furnaces.
Home heating oil gives off clearly recognizable signs before the air can reach dangerous carbon monoxide levels such as soot, odors, and smoke. Plus, the fumes from home heating oil are not fatal, which means should you have an emergency you will have a much better chance of realizing what's going on before it's too late.

2. Friendly to the environment
Strides have been made to make home heating oil cleaner, safer, and healthier for the environment. Sulfur in heating compounds contributes greatly to greenhouse gas emissions. In the last two decades, sulfur in oil has been reduced from well over one percent to about .5 percent, a nearly 100 percent decrease. Additionally, burner emissions have reached near-zero levels to further mitigate the impact home heating oil has on our atmosphere.
To make it clearer, Oil & Energy—a trade publication for the energy industry—cited a German study completed in 2004 that found heating oil has lower emissions overall than natural gas. In fact, all parts of the natural gas cycle, from product and processing to transport, create massive amounts of emissions that impact the health of our environment.

3. Scarce? Think again
Even though the media says oil reserves are running in short supply, it's clear the opposite is the case. The United States is the third-biggest oil producer in the world, alongside 36 others including Saudi Arabia and Canada—our largest supplier*. This means we as a country do not rely on any one source for our oil.
We are also discovering massive new reserves of oil all the time. Additionally, drilling and extraction technologies are improving at such a rate that previously-assumed unattainable sources are becoming more viable.

4. Better, cleaner, and more dependable
Since 1970, oil burners have become 95 percent cleaner and markedly more durable as technology improves. Plus, unlike older oil systems, new oil heating systems produce no soot, dirt, or air contaminants.
5. More efficient
As technology improves in production, processing, and delivery, oil is only becoming more effective a method of heating homes. With current methods of production and use, heating oil is about 16 percent more energy efficient than gas†. To put that into perspective, heating oil generates 140,000 BTU (British thermal units, a unit of measuring heat) per gallon versus natural gas, which crease 100,000 BTUs per gallon. That means it takes about 40 percent more natural gas to create the same amount of heat as oil.
Alternately, furnaces that use oil are more durable and have a longer lifespan than natural gas furnaces—up to 30 years for oil furnaces, as opposed to between 11 and 14 years for natural gas furnaces.
Additionally, with advances in oil efficiency on the rise, replacing your furnace with a more modern unit will more quickly pay for itself in utility savings, especially over the longer lifespan.

Wrapping it all up
Having the best facts available allows our customers to make the best decision when choosing their heating oil company. Along with having a history of uninterrupted service and responsive and capable customer service staff, we're confident Meenan will be your first and last stop for your home heating services.
Learn more about how we can help your energy efficiency with an equipment upgrade here
*Source: Energy Answers Today – Your Guide to Economical & Efficient Home Heating Insert by Primedia †Source: Energy Answers Today – Your Guide to Economical & Efficient Home Heating Brochure by Primedia
Click here to find out more information about heating oil and how it compares to gas
For more information about oil heat and your choices, check out this fact-filled website: "Energy Answers Today"